Moving On with Style Mission: To assist, encourage & teach people, to get the most out of the life they've got – in one-on-one coaching, seminars and actual hands-on work. We will accomplish our mission with style & verve:
By helping people deal productively with significant, mature life transitions (downsizing, moving, retirement, health issue deaths, divorce, eldercare…)
By providing relocation assistance – managing the details – doing the sorting, packing finding & supervising vendors, space planning, unpacking, organizing, interior styling and arranging.
By creating living spaces that are fresh, safe, functional, aesthetically pleasing, that honors our client's purpose, their life & their treasures.
By showing people that the essence of Moving On with Style is allowing space for Grace, embracing life, with room to pursue your passions –and the time to spend with those who matter most.
Speaker: Katie Roberts a LifeStyle Coach, Interior Stylist, Professional Organizer, and Chief Strategist of Moving On with Style – she promises to engage and enlighten and do live demonstrations for accessorizing. Katie will edit, and adjust program content to suit your audience. Audience members are encouraged to quiz Katie for ideas to solve the most challenging decorating and organizing dilemmas in their space.
Below are some of our popular programs. Contact us to find out how to bring any of them to your group.
SMALL is the new Big! Smart Ideas for Small Spaces.
Living comfortably in a small space, making your "stuff" fit AND look good, can be tricky.
From disguising awkward features to discovering hidden storage, this program will give you great ideas for solving the trickiest dilemmas.
Often the greatest challenge of living in a smaller space is finding a place for one's treasures, get new ideas for small room showcasing them.
It's not what you have but what you do with it?!
It's a Battle for your Life and the STUFF is gaining on you.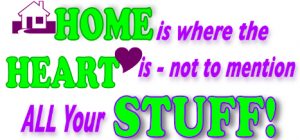 "HOME is where the HEART is – not to mention ALL your STUFF!™ " is a program that takes a humorous, albeit irreverent look at the snags in living and keeping it all together (or not), as we get older.
The years are multiplying, we Boomers have gotten very good at 'getting stuff.' So now what? This battle is on more than one front-we've got to sort not just physical clutter, but the stuff that gathered in different aspects of our lives.
What's at stake? Only your independence, health, relationships, money and your prized heirlooms!
Don't miss the opportunity to see Kathleen Roberts, called an "Edu-tainer" by audiences nationwide for her dynamic, interactive and practical presentations. Kathleen says,
"This is something completely different. Yes, Boomers and Seniors have lots of STUFF — All Kinds – and it's not just physical things. Consciously learning to manage 'the stuff of life' will refine and rejuvenate our homes AND our lives! I can promise it won't be boring!"
Bring this timely and worthwhile program to your group – FREE.
Home Sweet Home – for LIFE?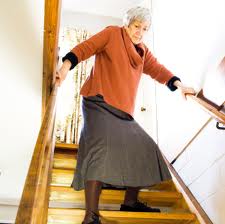 Will you live out your life in your own home?
Can You?
It's called Aging In Place
This program will review valuable Living-Well Strategies that seniors and their families need to consider. Learn the essential areas to address, it's easier than you think.
The majority of people want to live out their days in their own homes and without being a burden on family. You very well may, but not without making a few changes. Changes, unique to each home. An objective look can make all the difference between safe and risky.
Planning ahead greatly raises your odds of making keeping your home sweet. "Aging in place" refers to the ability to live in one's own home— wherever that might be—for as long, as confidently, and as comfortably possible. Aging-in-place technologies are the tools that enable seniors to remain in their home of choice, for as long as they choose.
Preventing the Ostrich Syndrome
The Power in Positive Confrontation™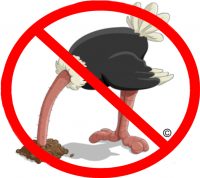 Tips and Ideas from the Experts for sticky conversations.
50- 60- 70- 80 years old – Every season later in life has topics, that are best discussed with family and trusted advisors, instead we hide our heads in the sand. Why? Discomfort? Fear? Embarrassment? Delays make matters worse.
Conversations with family on sensitive subjects are too often put off. Our seminar Positive Confrontation will help you 'Prevent the Ostrich Syndrome' when faced with topics like this:
Time to move? How to handle it?
What to do with all that stuff?
Medical directives? Wills?
Funeral plans? Where?
Handling with conflict and& disagreements?
Sharing costs and responsibilities.
Don't miss this unique, sometimes audacious program by a panel of experienced professionals, who have seen first-hand the consequences of avoiding sensitive subjects. This presentation promises suggestions that will open the door for critical discussions; that can empower – even improve your family dynamics.
You can bring this timely program to your group find out how it might be provided FREE.
Time for a New 'Trip-tik' in Life's Journey™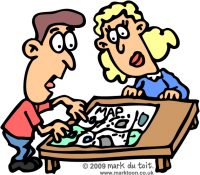 Create a future at least as interesting as your past, maybe more. Don't call it retirement — rewired, renaissance or renewal would all be more accurate. There's important work to be done. So, what's next? What do you want to do with the rest of your life? Important questions, not just for you personally, but for your family and your circle of friends, your community. . .Your choices have a bigger impact that you may realize.
"How can you know where you're going,
if you don't know where you've been?"™
We are all on the trip of our lives, and the course of your time-line is rich with noteworthy events, and points of significant decision.
An experiential program – by reviewing the trip thus far, and taking stock of the available supplies and where you've yet to explore – the next phase can be even richer than the last. Get ready to rock the boat instead of the rocking chair!
Conventional retirement planning needs to turn upside down, that's the intention in this program.
The goal is to encourage you to think in new ways, to go beyond just the financial perspective (important though it is), and explore what matters to you, what you could do, what you really want to do with the rest of your life — the 20 or more years of an extended lifespan can be an exciting, fulfilling and valuable adventure. Make no mistake this is NOT a fluffy, "it's all gonna be peachy" get-together!
It will be a sensible AND supportive approach to exploring your interests, options goals and dreams.
Phone: 303-956-7134 • Email: katie@movingonwithstyle.com